All consumption has a cost. It's more efficient to fly in a large passenger jet than it is in a private plane. It's even more efficient to just watch a Rick Steves video, though less fun. It used to be that the wastefulness of the consumption itself was part of the appeal, but for some there's now a cost to seeming like you're consuming too much. Enter the Silent Yachts Silent 55, a solar-wind hybrid catamaran built for a new kind of yacht owner.
Just saying the word "yacht" invokes either the smooth rock of Michael McDonald or the infamous scene from "Wolf of Wall Street" wherein Leonardo DiCaprio's character stares down Coach Taylor. Marine vehicles are, in many ways, the original sustainable form of transportation and many large yachts do use sails, though they are typically paired with some form of generator and/or engine for times when using a sail is not possible.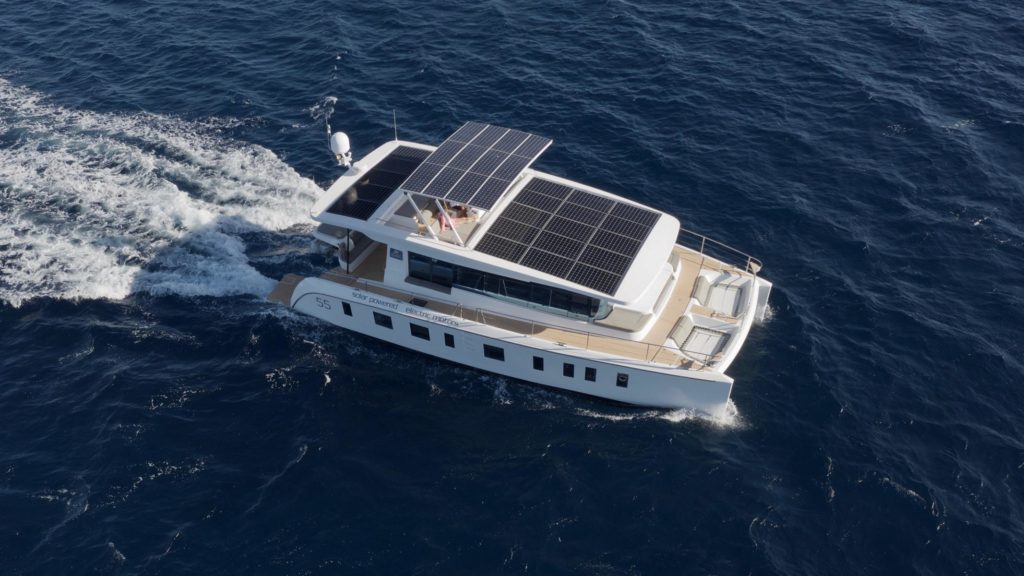 Another way to conceive of a sustainable yacht is the Silent Yachts Silent 55, a solar-powered electric marine vessel that looks both futuristic but entirely at home nuzzled up to some Riviera shoreline. It's a cliche to say something electric is the "Tesla of…" whatever, but this is concept right out of the Tesla playbook. Yes, it's solar-powered and new, but it's also not so new that it's off-putting or strange. In profile there isn't much of an indication of the Silent 55's propulsion system.
Silent Yachts offers three configurations:
CRUISER: 2x 50 kW electric motors + 100 kW generator + 150 kWh lithium battery
E-POWER: 2x 150 kW electric motors + 150 kW generator + 225 kWh lithium battery
E-POWER +: 2x 250 kW electric motors + 150 kW generator + 300 kWh lithium battery
All of these can be paired with a kite that can tow the boat in a way similar to a sail. Additionally, if you're still worried about getting stuck without power you can get a more traditional sail. Yachting World did a great review of the Silent 55 and had this fun exchange with company founder Michael Köhler:
Sales of the boat have been good – they have already sold six, five of which are already in the water. But of those, four customers have taken the sail option, which means planting a 19.7m tall mast complete with boom and rigging slap bang in the middle of the coachroof solar array. "I was a bit amazed," Köhler admits. "The shade from the rig reduces the energy generated by the solar area, while it costs more and is heavier, so consumes more fuel. Maybe it is for optical reasons."
In fact, the shade of the rig slashes the average yield of the solar panels in half. In the Med, that means around 30kWh per day. But perhaps it figures. The typical profile of buyers is an environmentalist who has a Tesla electric car and is "an early adopter who likes to have things before others". And at low speeds, with modest use of the air-con, the reduced energy generation should still cover daily consumption.
A new Silent Yachts Silent 55 is listed at $2.38 million on Yacht Market. I vote that you go without the sail, but I also don't have solar-powered yacht money.